Date: January 30, 1960
Summary: Bigotry rears its ugly head in Virginia City in the form of mayoral candidate Andy Fulmer. Chinese citizens are the victims of its wrath and the Cartwrights are deputized to help fend off violence and disaster.
Written by: Fred Unger, Thomas Thompson
Directed by: Lewis Allen
Guest Stars: Andrew Fulmer...Gene Evans, Amanda Ridley...Helen Westcott, Mr. Ridley...Frank Ferguson, Jesse Tibbs...Christopher Dark, Jimmy Chang...Guy Lee, Billy Wheeler...Ray Stricklyn, Lee Chang...Philip Ahn, Hop Sing...Victor Sen Yung, Sally Ridley...Patricia Michon, Cyrus Hammond...Arthur Space, Sheriff Halstead...Gregg Barton, Judge...Alexander Campbell, Chinese Elder...Peter Chong, Bob Miles...(uncredited extra) Bill Clark...(uncredited extra).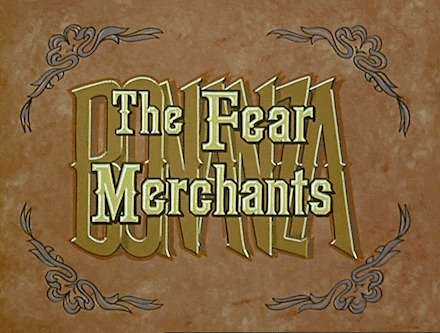 gif image courtesy of Gillie