This project (I hope) is going to be a lot of fun. Maybe I shouldn't share it here, because if I screw it up or never get it finished, y'all might laugh at me. But here goes.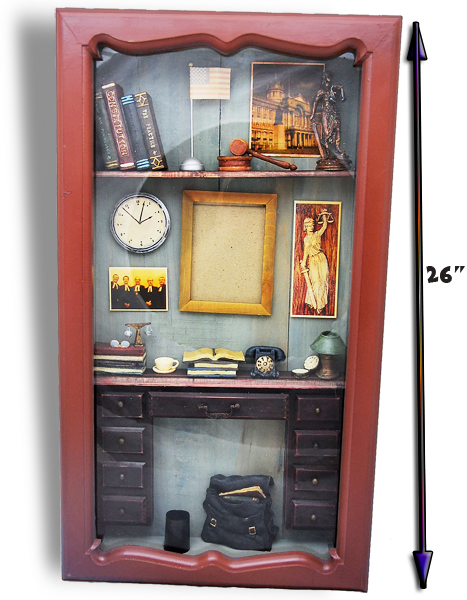 I was at a garage sale last week, and I found this beautiful shadowbox. It's wood and glass, very well made, and over two feet tall. The lady had gotten it as a gift and was selling it because she just didn't want it (like a lot of garage sale finds!). She was asking $5, but I talked her down to $3!
The shadowbox obviously depicts the early 1900s office of an attorney, and it's very cute. But what if I could turn it into the 1860s office of a certain engineer/architect that we all know???
The first thing I'll have to do, of course, is rip out the telephone! And that's a statue of Lady Liberty in the upper right corner, along with a photo of the same Lady on the wall. There's a scale of justice sitting on the books on the desk. That'll have to go.
And the flag has
way
too many stars, so I'll have to work on that. The books in the upper left are law books.
The blank square in the middle is actually a picture frame where you can insert your own picture, so that'll be the easy part (maybe a portrait of the Cartwright family?)
So my mission is to "Adamize" it. Without spending a lot of money, although I'll have to spend
some
.
I'm going to start looking at garage sales for small "Adam-like" items, such as a rifle, a black hat, maybe a gunbelt. My friend ol_bat1947 has suggested that I should get architects tools to set on the desk. And I actually found these on eBay (they cost me $10, but that's something I'm just not going to find at a garage sale)!!!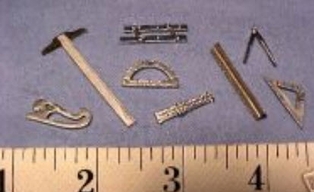 Drafting Instrument - Dollhouse Miniature
I'll remove
all
the pictures on the wall and replace them with something more in line with our boy.
The first task is to open the darn thing. It's solidly constructed and has been sealed by hand with dozens of tiny screws, most of which have gotten their heads stripped during assembly (in other words, most of them aren't about to come out without a fight). I have no idea how solidly the unwanted items are glued or nailed on, so I'll have to try and remove them without doing damage.

Anyway, that's where I stand right now, and it'll probably take me awhile to find my dollhouse-size items. Unfortunately, kids don't play with Cowboy items much anymore. I did find several small rifles last weekend at garage sales, but most of them were Star Trek Phasers!!!!

So this may be a long project!
Here are a few doodads I picked up on Saturday, simply because they were small. And yes, that item on the left is a glass of chocolate milk!! You can tell that I'm desperate at this point!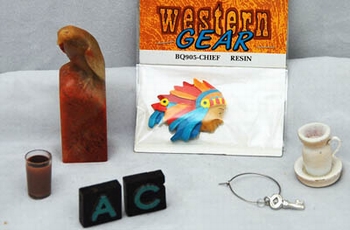 Wish me luck! And all suggestions will be much appreciated!!!!
Peg