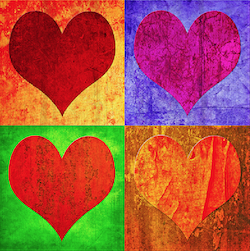 It's almost February 14,
and in many parts of the world,
people are getting ready to exchange
tokens of affection and undying love,
in the form of candy, flowers, gifts, cards, and letters.



And it's all in the name of a mysterious Saint from the past
by the name of Valentine!



This year to celebrate we are hosting
a Valentine's Day trivia-puzzler game.

Starting tonight and continuing for three more days,
I will post four trivia questions
about some of the lesser known details
of St. Patrick's Day.

And each question will come with an extra clue hidden in
a Valentine's Day jigsaw puzzler!




If you would like to participate in this year's
St. Valentine's Day challenge,
just do the puzzle and answer the trivia questions!

You will have until Monday, February 17 at midnight
to email your answers to moi, Gillie.

Those with at least three out of four correct answers
will win this cute little Valentine's Day badge!




Winners and answers will be posted
in this thread on Tuesday, February 18.

Sound like fun?
We certainly hope so!



P.S. Posting your puzzle time is encouraged,
but not required!



P.P.S. If the puzzlers don't give you the answer,
Google is your friend!


Enjoy!

Reminder: These puzzles can't be seen on a phone or tablet, only on computers.



Index


Puzzler #1
Puzzler #2
Puzzler #3
Puzzler #4