Ted Cassidy
Name: Theodore Crawford Cassidy
Birth: July 31, 1932 in Pittsburgh, Pennsylvania, USA
Death: January 16, 1979 (age 46) in Los Angeles, California, USA Ted died from complications after open-heart surgery.

Thanks Google Images
Mr. Cassidy was an actor most well known as Lurch from
The Addam's Family
. This was originally meant to be a silent part, but during an initial rehearsal, He ad libbed a
"You Rang?"
when the gong was sounded.
The Addam's Family
only ran for two seasons, but lives on in syndication.

Thanks Google Images
Mr. Cassidy was also in notable shows such as
I Dream Of Jeannie
, where he guest starred two times as a genie. He played Jeannie's cousin, Hamid and a fellow genie, Habib.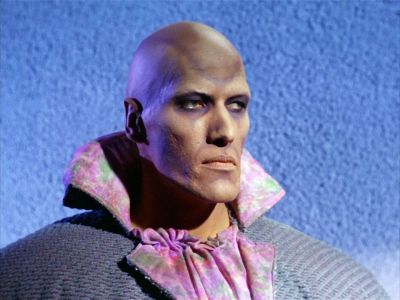 Thanks Google images
Mr. Cassidy also had three uncredited guest roles in
Star Trek
. Here he plays Ruk, the android in "What Are Little Girls Made of"
Mr. Cassidy's large size (6'9")and deep voice made him a natural at playing villains and thugs, as well as providing distinctive voice-over talent (Too many to list here). Mr. Cassidy narrated the opening credits of
The Incredible Hulk
. He provided the Hulk growls and roars in the first two seasons before his death. (For a full length see his bio on IMDB)

Cap by me
To us Boomers, we know Mr. Cassidy as
Garth
in Season 11, Episode 24
Decision at Los Robles
(15 Mar. 1970) Garth is the henchman to John Walker.
Basic synopsis of the episode:
While in Los Robles, Mexico, Ben is critically wounded by the town's cruel boss, John Walker. Ben manages to shoot and kill Walker, but now his son - the splitting image of his father - is hellbent on revenge. While Joe tends to his father's care, he tries in vain to embolden the town's residents, who for years have been intimidated into submission by Walker and their cronies. Eventually, Joe's efforts pay off and the Los Robles residents mount a stand against Walker's gang.
Quotes from Mr. Cassidy:
Which role do you want to be remembered for?
None. None of them! I don't want to be remembered for any of them because I don't like any of them. I'm not proud of any of them. I am still waiting for the one role I will have pride in and want to be associated with down the years.
A quote from another interview reminds me of Dan Blocker:
If I'm up for a part if, I'm asked to play something, I really worry what I'm going to be because they always make fellows like me the big dumb galoot, the oaf who doesn't know anything, who trips over himself. We are apparently idiots, all big men. You end up never leading anybody to anything. You end up holding people, while the boss hits them in the face -- scratching your head a lot wondering where all your marbles went. Well, that kind of thing doesn't appeal to me at all. I used to think that's how it was and I would do it, but I won't do it anymore. I turn down everything that comes along like that. So, the only thing you can rely on are those who have worked with you and know that you are consistent, talented and reliable, and maybe they're friends of yours and are willing to put you to work so you don't end up in the welfare line.