Ricardo Gonzalo Pedro Montalbán y Merino was born on November 25, 1920, in Mexico City.

He married Georgiana Young (sister of Loretta Young) in 1944 and together, they raised four lovely children.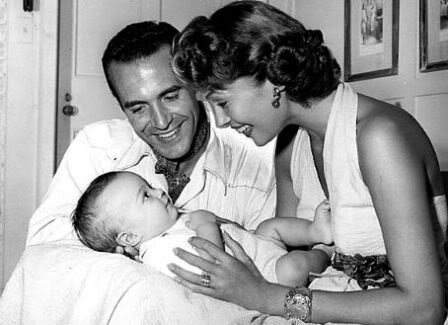 The couple lived happily married for sixty-three years until her death at the age of 83, just fourteen months before Ricardo passed away on 14 January 2009, Los Angeles, California, USA of congestive heart failure.

Although he spent most of his life in the United States, he remained a citizen of Mexico.

In 1940, Ricardo traveled from Los Angeles, where he had moved with his much older brother, to New York, where he earned a bit part in the Tallulah Bankhead stage vehicle "Her Cardboard Lover".

Upon returning to Mexico to care for his extremely ill mother, his dark good looks and magnetic style propeled him into the Spanish-language film industry. After more than a dozen films, he was on the verge of stardom in Mexico when MGM took an interest in him and he relocated back to Los Angeles. Making his Hollywood leading debut in 1947 as a robust bullfighter and twin brother of MGM star Esther Williams in the musical Fiesta, he attracted immediate attention.
cap from Fiesta, 1947
His second film with Miss Williams was 1948's On an Island with You.
cap from On An Island With You, 1948
His career continued with more leading-man roles, two examples of which follow. Ricardo was quite a dancer!
cap from The Kissing Bandit, 1948
cap from Two Weeks With Love, 1950
In 1950, he made the hard-edged boxing drama Right Cross.
cap from Right Cross, 1950
Occasionally, Ricardo was handed ethnic roles outside the Latino realm, such as his villainous Blackfoot Indian chief, Ironshirt, in Across the Wide Missouri. During the filming, Ricardo was thrown from his horse, knocked unconscious, and trampled by another horse, resulting in a painful back injury that never healed.
cap from Across The Wide Missouri, 1951
Here's Ricardo in 1954 as the heroic, bare-chested rebel warrior in the steamy Italian production, The Queen of Babylon.
cap from The Queen of Babylon, 1954
In 1957, Ricardo earned a

Tony

nomination as the only non-African-American actor in the tropical-themed musical Jamaica with Lena Horne.
cap from Jamaica, 1957
Over the years, Ricardo appeared in episodes of three different series with Madlyn Rhue:

As husband and wife Matsou and Hatoya in Bonanza, Day of Reckoning, 1959
cap from Day of Reckoning, 1959
As husband and wife Khan and Marla in Star Trek, Space Seed, 1966
cap from Star Trek: Space Seed, 1966
His third appearance with Ms. Rhue was in 1977, on Fantasy Island.
Over the years, he continued to appear on the big screen, typically playing continental smoothies, in such films as Love Is a Ball (1963), Madame X (1966) and Sweet Charity (1969), but it was TV that finally made him a household name. One of his appearances came in 1970 as Chato on Gunsmoke.
cap from Gunsmoke: Chato, 1970
Many of the scripts Ricardo was given asked him to portray Mexicans in a way that disturbed him, so Ricardo, along several Mexican actors, including Henry Darrow (guest star of the Bonanza episode, Amigo), established the Nosotros Foundation in 1970 to advocate for Latinos in the movie and television industry. The foundation created the Golden Eagle Awards, an annual awards show that highlights Latino actors. The awards are presented in conjunction with the Nosotros American Latino Film Festival, held at the Ricardo Montalbán Theatre in Hollywood.






In 1971, Ricardo joined the cast of what would become two movies roles for him, starring as Armando in the films Escape from the Planet of the Apes in 1971, and Conquest of the Planet of the Apes in 1972.
cap from Escape from the Planet of the Apes, 1971
In 1977, Ricardo captivated audiences as the urbane, white-suited concierge of mystery Mr. Roarke in the Aaron Spelling series Fantasy Island.
cap from Fantasy Island, 1977
In 1978, Ricardo won the

Emmy for Outstanding Single Performance by a Supporting Actor

in a Comedy or Drama Series for the acclaimed mini-series, How the West Was Won.
Tracycap from How The West Was Won, 1978
Ricardo's autobiography, Reflections: A Life in Two Worlds, was published in January 1980.
Mr. Montalbán agreed to reprise his role of Khan in Star Trek II: The Wrath of Khan in 1982 for a reported, mere $100,000 because he loved the role so much. He is the only Star Trek movie villain to reprise a role on the big screen. "KHAAAAAAAAAAAN!"
cap from Star Trek II: The Wrath of Khan, 1982
Next, he played a noteworthy villain in the The Colbys from 1985-87.
cap from The Colbys
The severe pain from his 1951 back injury increased as he aged, and in 1993, Ricardo underwent 9½ hours of spinal surgery which, tragically, left him paralyzed below the waist.

In 1994, Ricardo won the

Screen Actors Guild Awards Life Achievement Award

.
His paralysis did not stop him from starring, in 1994, as Mr. Shepherd in his final television show, Heaven Help Us.
Tracycap from Heaven Help Us, 1994
Ricardo was also famous for a series of TV commercials in which he returned somewhat to his "Latin lover" persona, primarily in a series of slick commercials for Chrysler's Cordoba automobile, pitching the elegant auto with its "rich, Corinthian leather" (it later came to light that this phrase had been conjured up as a marketing tool, and that there was no such product from Corinth or anywhere else!).
Ricardo, a practicing Roman Catholic, has been quoted as saying that his religion was the "most important thing" in his life and in 1998, Pope John Paul II made him a Knight of the Order of St. Gregory the Great (KSG), the highest honor a Roman Catholic lay person can receive from the Church.
Two of his final film roles were as the grandfather in the two Spy Kids sequels: Spy Kids 2: Island of Lost Dreams (2002) and Spy Kids 3-D: Game Over (2003). Filmmaker Robert Rodriguez created the role "Grandfather" specifically for Ricardo in his Spy Kids film series, including a jet-propelled wheelchair.


Called "a class act" by his peers, Ricardo was beloved in the industry for his gentle and caring nature. He was the epitome of continental elegance, charm and grace on film and TV and in the late 1940s and early 1950s reinvigorated the "Latin Lover" style in Hollywood without achieving top screen stardom.