In "gift of Water," Royal Dano plays Mr. Ganther, a man who believes there is water under his land and refuses to give up drilling for the artisian well.
cap by Sandy
It seems that Royal Dano was born with the cadaverous, haunting look of an old man since his iconic looks haven't changed since he first started in movies in the 1950's. Dano was born November 16, 1922 in New York City to Mary Josephine, an Irish immigrant, and Caleb Edward Dano, a newspaper printer.
His childhood was pleasant but Royal had a wanderlust and first left home when he was twelve, returned, and then would leave again at various intervals. At his young age, Dano traveled to Florida, Texas, California and their environs. He finally agreed to continue his education if his parents would allow him to travel at will and apparently they did. He graduated from New York University and his first acting part was in the Broadway Musical,
Finian's Rainbow.
Dano first appeared on the small screen in westerns during the 1950's and in 1952-53, in the five part series, "Mr. Lincoln" on OMNIBUS. Dano became associated with Abraham Lincoln since Dano bore such a similar bone structure to Lincoln. Not only that, but Disney chose Royal Dano as the voice of Lincoln in Disney's 1964 World's Fair display, "Great Monuments with Mr. Lincoln." Dano also voiced the character of Lincoln in Disney World's "Hall of Presidents" in Florida until the attraction was changed. Walt Disney had stated that he chose Dano because he believed the actor came closest to the historical description of Lincoln's voice.
Dano's first important role in a movie was as the "tattered soldier" in John Huston's adaptation of
The Red Badge of Courage.
He was so memorable in the small role that Huston also chose him for the part of Elijah in his 1956 movie,
Moby Dick.
It is Dano who utters the prophetic lines beginning with, "A day will come when you'll smell land and there'll be no land…" He plays the mad prophet to perfection and his deep, tremulous voice and intense eyes are unforgettable. He also had a small but pivotal role as a deputy sheriff in Hitchcock's movie,
The Trouble with Harry.
Dano became a well-known face on television thanks to his thirteen appearances on
Gunsmoke
alone. He appeared five times on
The Rifleman
playing an ex-con who becomes the pastor of Northfork. He also appeared on
The Virginian, Bonanza
and
The Big Valley.
Dano also became associated with strange and macabre parts. He had a small role in
Electra Glide in Blue,
a quirky film starring Robert Blake, sang one song in
The Right Stuff
in 1983 and played the "undead" prospector in
House II: The Second Story.
(Notice the pun?) In 1982, Dano had an odd part in the movie
Teachers;
he played a homeroom teacher who dies of a heart attack during his first scene and remains sitting in his chair, unnoticed throughout the whole movie and is still sitting at his desk when the film closes.
Dano's last television exposure was as Judge Clinton Sternwood on
Twin Peaks
; Dano was back in his macabre element.
Dano died of a heart attack following a car accident at the age of 71, May 15, 1994. For some reason, his spouse is unknown. He had two sons, Rick Dano whose son is Hutch Dano, a popular, young actor, and Royal Edward, Jr.(1946-1994). He left behind a legacy of television and movie roles, all which had the indelible stamp of Royal Dano's singular art and presence.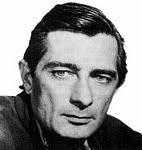 an early publicity shot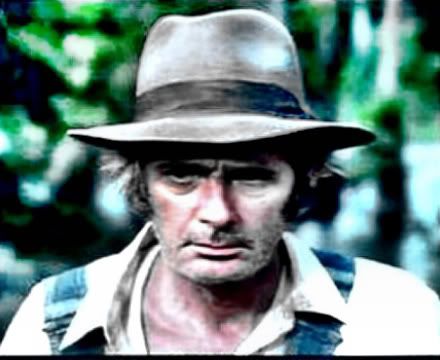 unknown
Dano as Lincoln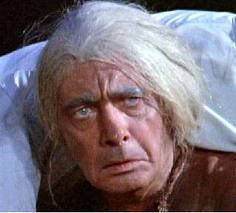 Dano in one of The Planet of the Apes movies.
Sources:
http://en.wikipedia.org/wiki/Royal_Dano
http://www.imdb.com/name/nm0200455/bio
http://movies.msn.com/celebrities/celeb ... oyal-dano/