William Marshall in his role of Thomas Bowers, an opera star who eventually proves his worth and his talent with the encouragement of Hoss.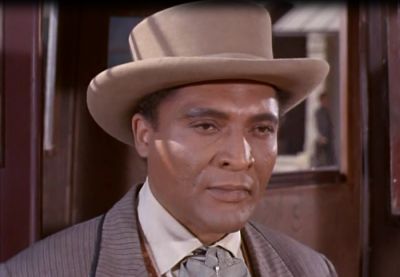 cap by me
William Horace Marshall was born in Gary, Indiana On August 19, 1924 to Thelma and Vereen Marshall, a dentist, and was of African and Cherokee heritage. He graduated from Governor's State University and attended New York University where he studied art. Marshall became known for his general demeanor, his deep baritone, often described as "bass," voice and his impressive physical stature; he stood 6' 5''.
When he was eight, Marshall had a backstage visit to the original production of
Green Pastures
which he credits for piquing his interest in acting, so while at NYU, he trained for theater at the Actors Studio, the American Theater Wing and the Neighborhood Playhouse. In 1944, he debuted in
Carmen Jones
, an all-black cast remake of the opera,
Carmen
.
Marshall was classically trained and performed the titular character in
Othello
over six times. He even made a jazz version with Jerry Lee Lewis as Iago. Harold Hobson of the London Sunday Times stated that Marshall played the "Best Othello of our time." Marshall also had memorable stage performances as Paul Robeson and Frederick Douglass. He did intense research on Douglass before he played the role and in later years, performed in a one man show on PBS called
Frederick Douglass, Slave and Statesman
and then he adapted it for the theater as
Enter Frederick Douglass
, an echo of his appearance in Bonanza in the episode called, "Enter Thomas Bowers."
Marshall's screen career began in 1952 with a part in
Lydia Bailey
and two years later, he played Glaucus in
Demetrius and the Gladiators
with Victor Mature. Another memorable part came in 1957 when Marshall was cast as the leader of a Mau-Mau uprising in
Something of Value
.
Many television roles followed including a well-known episode of Alfred Hitchcock called "The Jar" in 1964,
Wild Wild West
and
Star Trek
in 1968, and two episodes of
The Man from Uncle
in 1964 and 1967. Marshall also played the Attorney General, Edward Brooke in a 1968 movie,
Boston Story
.
As far as movies, Marshall is best known by the general population as his role of
Blacula
in the movie of the same name, and in
Scream
,
Blacula, Scream
. His character was a well-spoken, highly educated, charismatic African prince who, many ages ago, had been bitten by Dracula. Although, arguably, Blaxploitation, or Blacksploitation--a term coined by the then NAACP head and former film publicist, Junius Greer to identify films that were made for urban, black audiences---began with the movie
Shaft
with Richard Rondtree in 1971,
Blacula
was definitely a stand-out blaxploitation movie that crossed over the racial and ethnic culture lines. Marshall made the original Blacula and it's sequel and had a forgettable part in an
Exorcist
type film named
Abby
in 1974. His last film role was as a riverboat gambler in
Maverick
with Mel Gibson.
To today's audience, Marshall may well be best known for his character, the "King of Cartoons," taking the part in the second year of
Pee-Wee's
Playhouse
. His catchphrase, repeated by children in their living rooms, was "Let…the cartooons…begin!" He took the part to please his grandchildren.
Marshall, even after he had himself retired from acting, taught it at California State University at Northridge among other universities and colleges. The Chicago Creative Arts named Marshall one of the "Epic Men of the 20th Century" in 1992.
Marshall died on June 11, of 2003. In his New York Times Obituary, it was stated as a heart attack but all agree that his death was brought on by complications from Alzheimer's and diabetes. He was survived by his unmarried partner, of 42 years, Sylvia Jarrico and their children and grandchildren. And although he is gone, his magnificent presence and resounding voice will never be forgotten due to his legacy of work left behind.
Addendum
:
In a 1955 production of
Othello
, Pernell Roberts was cast in a small part. Marshall played Othello:
"This Playbill [displayed on Ebay] is from the week of September 7, 1955, at the New York City Center, for the Brattle Shakespeare Players production of Othello. The show starred Jerome Kilty, William Marshall, Jan Farrand, Cavada Humphrey, Paul Sparer, Michael Wager, Thayer David and Peggy Cass. Directed by John Stix. Please note that both Othello and Henry IV Part 1 are listed on cover, but only Othello has show information inside: title page, cast listing, bios.
Pernell Roberts played the small part of Montano. Please note that Roberts appears In the cast listing, but there is no bio for him. There are bios of the eight cast members listed above."
Classically handsome
A young heart-throb
Doctor Daystrom on Star Trek
Blacula!
The King of Cartoooons!
Marshall is his later years.
Sources:
http://nytimes.com/2003/06/21/obituaries/21MARS.html
http://en.wikipedia.org/wiki/William_Ma ... ion_actor)
http://www.imdb.com/name/nm0551234/
http://en.wikipedia.org/wiki/Blaxploitation