Search found 300 matches
by dougsgirl

Sun Nov 10, 2019 6:30 pm
Forum: There Were Other Westerns?
Replies: 5
Views: 46
I've never seen but I knew the original Osmond brothers where in it. I would like to see it, maybe my husband can bring it up on one of our channels.
by dougsgirl

Tue Nov 05, 2019 7:58 pm
Forum: Season 4
Topic: Episode 102 - THE QUEST
Replies: 6
Views: 2154
This episodes has a few moments I love. The bar scene where the big brothers interfere with Joe. A good brother to brothers moment. Especially when Hoss and Adam deliver Pa's message. I also love the Joe/ Pa moment when Ben tries to show Joe how much stronger they are working together rather than o...
by dougsgirl

Mon Oct 21, 2019 1:17 pm
Forum: Introduce Yourself
Topic: Hello
Replies: 16
Views: 289

JoeCFan and
to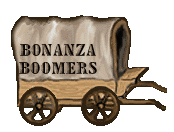 by dougsgirl

Wed Oct 16, 2019 3:45 pm
Forum: There Were Other Westerns?
Topic: Bronco 1958 - 1962
Replies: 4
Views: 144
That was some birthname. I don't recall seeing him in much, but I too thought he was a handsome man.
I was just reading up and him and saw he had been married 8 times and had 10.